College Life is just for having "Fun" and nothing else, Most of the youngsters who are planning to enter their college think that way. Well, it is true up to some extent but at the same time, one needs to understand that college life is the time period that can give your career a better path, a better shape. You will learn so many new things starting from your very first day of college till you graduate from your college. Today you will learn the 5 Powerful college life lessons that will boost your career.
College life will come up with new friends, new experiences in your life. But along with all of these things, it'll come up with lots and lots of opportunities for your growth and trasformation.
You should be able to Grab Every Single Opportunity that comes along your journey of college.
5 Powerful College Life Lessons That Will Boost Your Career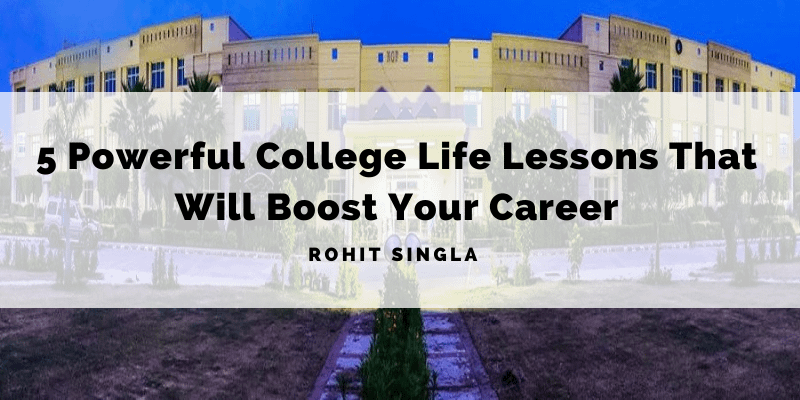 Here are the 5 College Life Lessons that I learned in my college life.
1. Explore As Much As You Can
"Explore as much as you can" This will help you better understand yourself, your strengths, your weakness, your abilities to perform different tasks.
Maybe as of now, you are totally introverted and have a fear of speaking English in front of people! Maybe you are good at sports, Maybe you are good at speaking and influencing people or even maybe you think that you are not good at anything.
Whatever the case/scenario/situation you are going through right now.
Exploring multiple avenues of careers will showcase your true self and you'll be able to know the best career option that you can choose from.
The More You Will Explore, The More You Will Be Able To Know Yourself Better

Rohit Singla
So, just explore yourself and grow your personality.
2. Be A Leader – College Life Lesson
Remember,
Leadership Is Not About Being 'BOSSY', It's About Being More Responsible.

Unknown
A leader is not someone who just order on people, work on his own terms, senior to juniors and just do what he wants to do all the time.
But a Leader is someone who knows how to get the work done by building connections, relationship with team, people and clients. Also, he knows which task to be assigned to whom for better productivity and the growth of the individuals.
A true Leader knows his/her responsibilities towards the the role he/she is assigned to.
Some of the greatest leaders of all time are – Martin Luther King, Mahatma Gandhi, Mother Teresa, Dr. APJ Abdul Kalam, Nelson Mandela, Narendra Modi and the list can goes on.
Leadership Comes Along With Lots and Lots Of Responsibilities.

Unknown
3. Love What You Do (Take Full Charge)
There are two statements which are very popular and I am sure that you might have heard them in your life.
The Statements are – "Do What You Love" & "Love What You Do".
Here, I'll talk about the second statement "Love What You Do".
Right now you might not know what are the things that you are really good at or what's that one thing that you enjoy doing the most.
In that case, until and unless you discover your true purpose, passion – you need to just love all the things that you do.
This article is all about college life lessons, right? So, college life is the best time to participate as much as you can.
Doesn't matter if it is a speaking event, role play, competitions, fairs, workshops, anything and everything apart from your academics. You should be the one who participate in all those events.
Participating in all those activities will help you to discover your true self and you'll be able to grow yourself as a person. You'll be able to grow your skillsets through these activities.
After discovering your true self, then you would be able to "Do all the things that you Love" under the "Do What You Love" statement.
4. Never Trust The Third Person
Remember that the foundation of every single relationship in this world is "TRUST", and if you don't have trust in any relationship then their is no sense of being into that relationship.
In your college life, you'll go through these types of experiences where you'll have this "THIRD" person who will try to create mess in your relationships.
So, try to be aware of this and never trust these people in your life.
Even if their something like that – Just talk to the other person and you'll end up saving your relationships.
Hold on, I'm not just talking about the intimate relationships but all kind of relationships.
As I told you earlier, Trust is the most important and very crucial pillar of any relationship. Make it so strong that even no earthquake can break it (Metaphorical speaking).
5. Focus More On Practical Things
You have read so much of theory in your school life. But when you are about to enter in college – make sure that you are focusing more on practical things.
Now, What do I mean by Practical things?
Good question that you asked!
So, by practical I want to say that focus more and more on learning new things & start implementing in the real life scenarios.
See most of the people what they do is 'They just learn, learn, learn and learn". They never implement what they have learnt.
Now remember –
Knowing and not doing is equals to Not Knowing"

UNKNOWN
Better try to implement things that you have learnt or things that you know. You'll evolve as a person and that's for sure.
So, be more practical about your learning and knowing the things.
Conclusion – Powerful College Life Lessons To Boost Your Career
There are millions of students who enter into college every single day and also there are millions who graduate from college as well.
But, a very few out of those are capable to start their own venture, get high paying jobs, and do extraordinary things.
Things that separate other people are what they have done extra in their college life apart from their academics only.
So, if you are someone who is in college or someone who is planning to start your college life ahead. I strongly recommend you focus on these 5 things which I have shared in this article.
And I am confident that you won't be the same person when you'll be graduating from your college.
If you have read this so far, I strongly believe that you are serious about your learning and growth.
I have a community of people where they learn new things every single day.
The community is "Life Long Learners Community".
If you are interested to join that community than click the link here.
Share this with someone who can benefit from these awesome college life lessons that can really help you discover your true career path.
I really appreciate your time that you spent reading this article.
Let me know in the comment section your key takeaways, learning.
Got some question? Hit that in the comment section below.
Thank you so much.
Wish You All the Very Best.
Be Proud to Be A Life Long Learner.
#lifelonglearner