How To Make A Successful Career Change – This is one of the most common questions for which many working professionals want to get the answer.
Switching to a new job or a career can be very critical if we don't do the analysis the right way.
This is the same questions I received some time back from a known person.
So, I shared with him some key essentials that were required and which helped him in making a proper career switch strategy for himself.
The same strategy is what I am going to shared today.
I have created a video on the same topic for better explanation.
How to Make A Successful Career Change.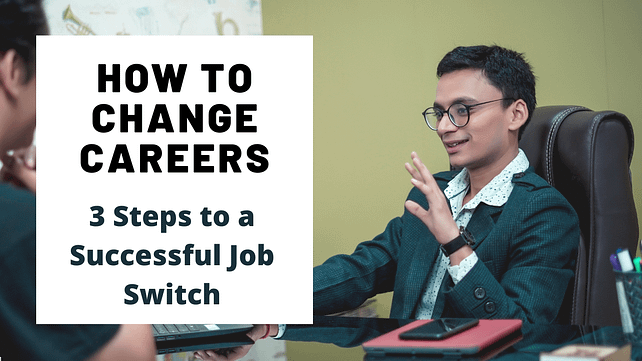 Here's the overview of what you'll be learning inside the video.
1. Sharpening the Saw.
Sharpening the saw means sharpening yourself with the skills that are required for you to grow.
Now, the skills for an individual/career may vary from profile to profile.
Something like –
For a technical person your technical skills are very much important.
And for a non-technical person the skills could be Your –
Verbal and non verbal communication.
Body language.
Public speaking.
Presentation.
People Skills.
Rejection Handing.
Sales.
People Handling
And some more can be added to the list.
2. Right Targeting
In right targeting, comes the part which is very very important as per me.
Targeting the right company which serves the values that you looks for in your dream company matters a lot.
Make sure you do that correctly.
3. Cutting the TREE.
Now, once you have sharpen your saw and done with the right targeting.
It's time for you to cut the tree and take action on the action plan that you have created for yourself.
Conclusion – How to Make A Successful Career Change.
Watch the completed video to know about the 3 Tips on How to Make A Successful Career Change.
Also, once you watch the entire video and got the intention. Do share that with others.
Help other people in your network to make a successful career change in their lives.
If you have some questions related to making a successful career change then do share that in the comment section below.
Also stay connected to my via subscribe to my YouTube Channel or follow me on Facebook or Instagram.